Car rental in Queretaro
America Car Rental Queretaro offers rates with Coverage Included 0% Deductible, Assistance and Free Milage. We have a wide range of cars for rent in the best destinations in México, which are adapted to the needs of our customers for their comfort and well-being. Book a Car Today at the Best Price!
Loss Damage Waiver 0% Deductible (LDW)
Pick up and drop off at the Airport
Free mileage
State and Federal Taxes
Legal Assistance
Vehicle Licensing Cost
Medical Expenses Insurance (PAI)
Insurance included*
FAQ about car rental in Queretaro
Useful information for car rental in Queretaro
0% Deductible
If you are interested in car rental at Queretaro airport with America Car Rental, as part of the contract, is to acquire coverage or better known as insurance, this will protect you from any accident during car rental in Queretaro.
Cars in good conditions
To have a good route during your entire trip, within the car rental in Queretaro Airport, make sure that the space is optimal for the whole family and comfortable enough, because of the long journeys.
Service 24 hours
At America Car Rental, we ensure that the rental of cars and vans in Queretaro, is according to your needs, so we work all year round, throughout the day, to be aware of your arrival.
Pick up the car at the airport
To facilitate car rental at Queretaro airport with America Car Rental offers you the convenience of delivering the car you rented from the airport.
Roadside assistance
We know that nothing and no one is exempt from a mishap during the economic car rental in Queretaro, so you should be aware of where rents offer this service mentioned above.
Free mileage
A trip can be long or short distances, therefore the importance of not feeling pressured with the Mileage that includes car rental at Queretaro airport, with America Car Rental you won't have to worry any more than to enjoy your stay
What to do in Queretaro?
America car rental in Queretaro has a diverse range and types of vehicles for rent to cover all the needs of our clients we have cars, compact, medium, full sizes up to family trucks, thus we cover all the needs of our clients. It doesn't matter if your trip is for work or pleasure, at America Car Rental we have the perfect car for you.
We offer car rental service at Queretaro Airport 24 hours.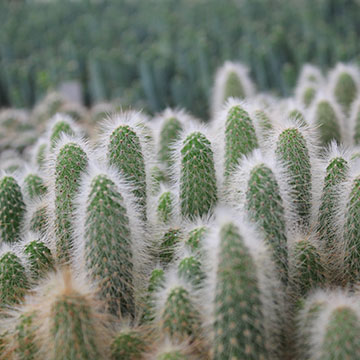 CADEREYTA
It has been considered a Magic Town since 2021, it stands out for its beautiful botanical gardens of cacti and succulents, typical of the semi-desert region where Queretaro is located. Here you can do activities such as skydiving, plane rides and if you want to go further, half an hour from Cadereyta is Tzibantzá Island, an ecotourism camp where you can fish, swim or explore its beautiful springs. It is only an hour and a half from the capital, so you can venture to discover Queretaro with your rental car.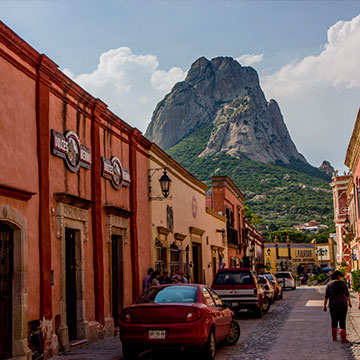 PEÑA DE BERNAL
It was one of the first places to obtain the category of Magical Town and today it is one of the busiest spots. The impressive thing about this place is La Peña, under which the town of San Sebastian is located is the third largest monolith in the world. It is this natural giant and its colorful architecture that give tourists extraordinary views, worthy of being photographed. Beyond the magnificent visual background that it forms, this natural wonder loaded with such mysticism is visited by thousands of people during the spring equinox to "recharge" and dominate the exquisite landscape from La Peña. It is worth mentioning that it is only one hour from the capital, so you can take advantage of your rental car in Queretaro.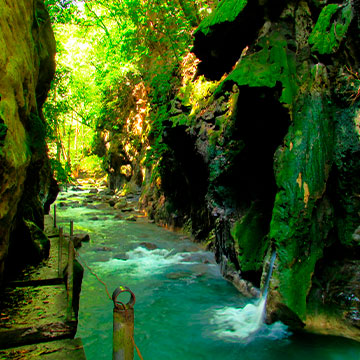 PINAL DE AMOLES
To get more in touch with nature, we recommend you go to one of the most visited places in the Sierra Gorda, Pinal de Amoles, where the Puente de Dios is located, a rock formation where the waters of the Escanela River run. Here you can cool off in the small pools of crystal clear water after a long walk on its trails. It is worth mentioning that it is 2 hours from Queretaro.